[Note to visitors from Feministing: Hello! Glad to have you here.]
[Same also to visitors from Feministe, Haloscan, Alternet, and the several others who have picked up on this post. Over 3,000 of you have visited in the last 5 days. Welcome, all!]
[At this point, let me just say: "Hello, and thanks!" to all the new visitors from the many sites that have linked this story. I've been overwhelmed – 7,000 hits in 6 days, from a pre-story average of about 35 per day! – and gratified by the attention. I can no longer keep up with the flood.]
Sometimes God hands you one on a plate.
The Onion ran a blunt but funny parody of the right wing's delusional vision of women who have abortions ("Well, I don't care what the pro-lifers say… I am totally psyched for this abortion! . . . Those pro-life activists made it pretty clear that, unlike me, they actually think abortion is bad and to be avoided. Are they nuts? Abortion is the best! . . . I seriously cannot wait for all the hemorrhaging and the uterine contractions. This abortion is going to be so amazing. . . . See you at my post-abortion party, everybody!").
Exceeding even my low expectations, some imbecile "pro-lifer" took it seriously, and posted a lengthy finger-wagging screed about this woman's irresponsibly light-hearted attitude toward "the killing of innocent human beings! [exclamation point original]"
She says:

"If my HMO wouldn't have bowed to [pro-life] pressure not to cover oral contraceptives, I never would've gotten pregnant in the first place."

Sorry ma'am, if you hadn't had sex you wouldn't have gotten pregnant, it's not the HMO's fault for not supporting your promiscuity while not married. . . .

Miss Weber, you have killed your child . . . . That does make you an admitted murderer. . . . I'm going to pray for your forgiveness and for the suffering which you will endure when you realize what you have done. Every baby you see from that moment on is going to wake you up to the realization that you killed your child.
Why do I get the feeling that when "Pete" at "March Together for Life" says he's going to pray for "Miss Weber's" suffering, that's exactly what he means?
And yes, true to form, he posted both the name and the photograph of the person whose suffering he was praying for (not realizing that both are fake).
So, Pete, even though it's not yet the end of the week, you take the prize. For being an unbelievable moron, for sanctimoniousness above and beyond the call of decency, and for confirming in hilarious detail the sheer boneheaded idiocy of the pro-life movement, you are officially the Stegosaurus of the Week. Next time try thinking with the cerebral ganglion, not the sacral one.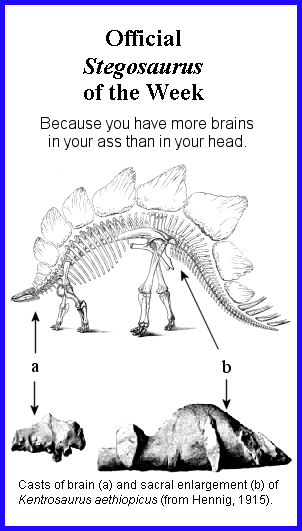 Our lovely "Stegosaurus of the Week" Award GIF: Official Winners may feel free to add it to their Web sites.

UPDATE:
Man, it's just too easy. After getting hammered with a 4-day surge of traffic from this site, and then the several who picked up the story and linked him directly, and after suffering several hundred unanimously derisory comments (still my favorite: "I'm pro-life, but sweet Jesus you're an idiot. For your next post, how about a passionate speech on the need to immediately free Prince Albert from the can?"), "Pete" has finally responded. Not, as many had predicted, by taking his insanely stupid post down, but by following up with another attack on the same satirical Onion piece and claiming he was right all along!
I was tempted to just ignore it, but it's priceless. He repeatedly refers to "Miss Weber" as a real person, insisting that "she" really said all the things in the article. He then asserts that he is entitled to believe that the article was real because that's how pro-choice people really talk, as witnessed by a totally deranged conversation he claims to have had with a pro-choice woman while he was setting up his "Genocidal Awareness Project" signs in a public park. He concludes: "I think I did a good job of turning the 'satire' right back at them, don't you?"
It's hard to tell what he means by this, since, just before that comment, he quoted his own research into the meaning of "satire":
Hmm, let's look up the term satire:

"witty language used to convey insults or scorn; "he used sarcasm to upset his opponent""
Yep. He looked up the wrong word, then quoted it. [UPDATE: To be fair, it should be noted that there is an online dictionary that gives the above as a definition of "satire". It's obviously a bad definition, but I suppose he's entitled to use it. See comments below.]
I dunno. The Stegosaurus of the Week award was just recently instituted, and was intended more as a joke than anything (I hesitate to use the word "satire"). There aren't really any rules for it, so I don't know if I can give it out at the beginning of the week, or to the same person twice for what is essentially the same act of stupidity. I do strongly suspect we're not going to see anything this gaspingly dumb again, certainly not in the next three days. Unless Pete keeps posting.
Pete: don't.
ABSOLUTELY FINAL UPDATE: He posted another self-defensive statement when his first defense only drew more flames. When all three absolutely idiotic posts collectively garnered over 1,500 comments, virtually every one of them harshly critical, he moved the entire content of his blog to a new URL. I could almost sympathize with that, except that he moved the clueless anti-Onion rants along with it and left them up on the new blog, with no retraction and no indication that their subject was fictional. (He does appear finally to have figured this out – after having it pointed out in unmistakeable terms 1,500 times – but he hasn't deleted, retracted, or edited the two posts in which he claimed the Onion story was real.) The new blog requires registration for comments (I wonder why), so he's insulated from criticism but still puts forward his clueless and false rants about abortion.
I give up. I will post nothing more on this. This dipshit is simply far beyond help, and there's nothing to be gained by flogging the incident. As some have begun to note on his old comments threads, there may not be any more point in commenting on his posts either. Whatever they are capable of learning from this, he and his supporters no doubt already have. Insulting him or them just to do it is gratuitous and makes no political point that hasn't already been made. Best just to ignore him. As for me, I'm very grateful for the nearly 6,000 visits I've now received from this and the Margaret Sanger post (above) – I do hope many of you will come back here regularly – but I consider the incident closed now. He's done, we've stuck a fork in him (over and over . . .), and it's time to move on.
PLEASE MAKE ME STOP . . . (A Post-Final Update): I said I wouldn't, but . . . . Pete now claims that he was in on the joke all along! It's obviously not true – his first followup to his idiotic post repeated his direct criticisms of "Miss Weber" and claimed that he knew she was real based on his extensive (and apparently bizarre, if not imaginary) interactions with other pro-choicers. His second and third followups (he's now up to a total of 5 posts on this one article) both put the word "satire" in scare quotes and/or a question mark, while still seriously criticising the "pro-choice" agenda he claims to find in the Onion piece. The guy really does not know when to give up. Now, finally, he says:
Point one – My article was a joke, which obviously thousands of you didn't get, all the while accusing me of being the stupidest person on the planet.
Pete . . . you are the stupidest person on the planet. Really.
He also removed the entire set of comments from all the posts on his original blog and disabled commenting both there and on the new blog he fled to. He claims it was because several commenters had posted his home address and phone number. He could have deleted just those comments, however, so this, along with his "my article was a joke" post, seem like a major revisionist effort – for which he deserves only more scorn. But my reason for posting this (final! really!) Update is to ask people not to post private information, especially home or work addresses, phone numbers, or the names or descriptions of family members, on the Web. As a tactic in these political debates, it's vicious and unworthy. Even when not intended to intimidate – for instance, as a way of needling Pete by making donations to Planned Parenthood in his name, as one commenter below recommends – it can lead to harassment and invasions of privacy by others. It's especially dangerous where families are affected. So I recommend never doing it for any reason, and, to the extent that I am responsible for having started this mess, I feel an obligation to ask people not to do it to Pete, anti-choice idiot that he is, either here or on any other Web sites.