This has been getting a fair amount of commentary, and rightly so. There is a citizen-petition initiative on the ballot for the City of San Francisco, this coming November, banning circumcision of male minors except in cases of medical necessity. It is modeled on a similar ban on female genital mutilation already enacted into federal law. It adopts language in the federal FGM law specifically excluding religious beliefs or "ritual" as grounds for exception.
It's not an unreasonable law, and I think it's something that probably ought to be done though I have the impression that the issue is overblown from both sides. It's also obvious that the law would most directly impact Jews (and adherents of some the other smaller faiths,  including some branches of Islam); the largest number of parents choosing circumcision in American are Christian, but they don't make a religion out of it. (Ha! Haha!) But the debate over "male genital mutilation" – while pretty crazed at times – has mostly not had a religious focus; there are good non-religious reasons to oppose circumcision, and some non-religious reasons to favor it, and both argunents have been beaten to death by combatants on this subject without making it a religious war (other than to the extent that some people support circumcision for religious reasons).
But the group in San Diego that wrote the bill coming up for vote, and pushed the signature campaign that got it on the ballot, somehow stepped on a banana peel just recently, and threw the whole issue down a steep and bumpy flight of steps to an ugly landing (if you'll excuse an increasingly awkward metaphor). The group has generally followed the "I mourn my penis" line in its "intactivist" crusade for prepuce justice, but for reasons that are hard to comprehend it recently came out with this: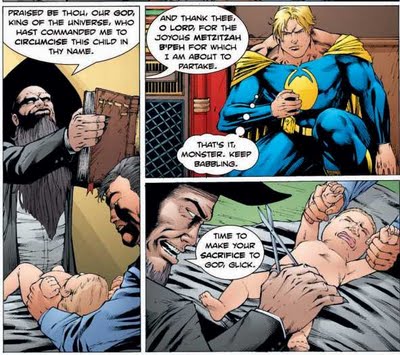 This is a page from their "Monster Mohel" comic book, issued in support of their ballot initiative. The comic features a blond, muscular superhero – "Foreskinman" – who bursts in on a group of Orthodox Jews conducting a bris on a struggling boy. The villain – "Monster Mohel" – and his evil minyans (Ha! Haha!*) are wild-eyed, scraggly-haired, and grinning psychotically; one of them holds the child's terrified mother by force while they cut her baby boy. Just to top off the Jews-as-freaks theme, the mohel gibbers about a "sacrifice to God" while brandishing scissors over the boy's crotch, and also gushes praise for "the metzitzah b'peh for [sic] which I am about to partake" (the latter being a rare version of the circumcision ritual in which the mohel cleans the penis of blood by sucking it).
So: Jews as savages, religious nuts, and perverts, and their religious rites as violent and forcible; the anti-circumcision types as strong, Aryan, saviors rescuing children stolen from their mothers for bloody Jewish religious rituals. Hmmmm . . . never heard of anything like that before.
Not surprisingly, this has gotten a lot of criticism as anti-Semitic, and many commentators, especially on the right wing, have gone on from there to state categorically that the entire anti-circumcision bill is an exercise in anti-Semitism, and the "MGM" activism movement is just anti-Semitism in disguise.
That seems to me no more than another example of right-wing logical failure. (Are anti-Semites really that hung up on Jewish penises? And would they really go to the extent of funding and promoting years of agitation, and multiple state ballot initiatives, on an issue that makes them sound like cranks while affecting over 90% non-Jews? As far as I'm aware, even Nazis didn't ban circumcision.) Through some bizarre twist of religio-political fate, the political movement that was forever railroading Jews on false charges and banning them from colleges and country clubs has in recent years decided that Jews are their special project (i.e., a convenient hammer in the Middle East to use against Muslims, and tied up in some loony way with Rapture prophecies – which also foretell the murder or forcible religious conversion of those same Jews, but that part doesn't get mentioned). So finding an initiative they regard as left-wing that also has anti-Semitic elements is a welcome opportunity for them to paint the left wing as anti-Semitic. Between the fact that there's nothing leftist about the "MGM" movement (except insofar as it's anti-traditionalist and anti-religious, so clearly not rightist – but most liberals aren't het up about foreskins and there's nothing about them that is particularly associated with liberalism) and that tiresomely familiar hasty-generalization thing, the whole argument just makes no sense to begin with. The fact that one argument against circumcision is anti-Semitic, or even that some opponents of circumcision may be anti-Semitic, doesn't mean that opposing circumcision is in itself anti-Semitic, especially when, again, Jews are only a tiny percentage of the people in the US who practice infant circumcision. Besides,  if we're going to ban an entire policy because some of its supporters did something stupidly offensive, there would simply be no right-wing policies at all, so this is an argument form they really don't want to be throwing around lightly.
But the weird thing about this is that the group forwarding the bill is not, seemingly, anti-Semitic. Their Web site is for the most part filled with the standard kinds of information and arguments about circumcision that you find among most supporters of this movement; religious issues are hardly touched upon and not, where I've seen, in an offensive way. The comic book is just absurdly divergent – in tone it's completely incompatible with the rest of their work, and in content it has nothing to do with the actual substance of the group's issue. It's hard to believe it comes from the same group as is running the "MGM Bill" Web site. It may have been an attempt to address the strongest source of the religious-tradition argument for circumcision, that simply came out stupid-bad. Even though it's hard to believe this sort of thing could have been dreamed up, proposed, produced, and approved without someone raising a flag, still, things do fall through the cracks. I can believe that something this messed up could emerge from a group that does not have overt or overriding anti-Jewish sentiments, in the same sense that I can believe Michael Richard didn't intend to sound like a racist dick in his infamous comedy-club meltdown incident – sometimes you lose sight of what you're trying to do, and . . . well, shit happens. It's a very weak argument to claim that "they're not anti-Semitic except for the unbelievably offensive anti-Semitic stereotypes in the major publication they just issued", but, even so, for the reasons given above I think it's believable in this case that this was an aberration more than a real statement of their policy.
But whatever its genesis, there's no question that the publication, deliberately or not, is unmistakably anti-Semitic, and trades in ugly and ridiculous stereotypes. (I have to say I do like Foreskinman's superhero logo, though: a round knob with a slit at the tip, flanked by a thin spreading collar coming up around the sides . . . use your imagination.) For an issue that has plenty of reasonable arguments on its side, including counter-arguments to religion-based adherence to tradition, this is stupid, divisive, offensive, and counterproductive. This really isn't helping their movement – in fact, it may well kill it in California before the vote is taken – and causes real harm to many people, irrespective of their stance on the circumcision issue. Bad move, and their dismissive reaction to the first complaints made it worse. The MGM people need to start taking stock, and taking responsibility, soon.
* Yes, I stole that one.