Interesting comparison from the US Census Bureau: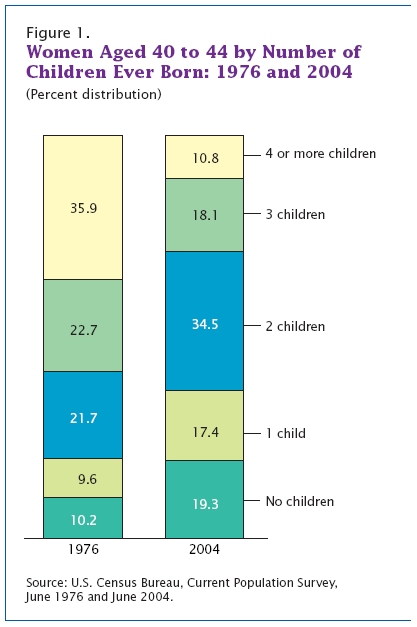 The percentage of women who reach the end of their fertility with zero or one live-born child almost doubled over a recent 28-year period. The fraction who had 3 or more has been cut in half. These are remarkable trends. The fact that nulligravidity has almost doubled, to nearly 20% of women, is especially striking. Forty years ago, childlessness was almost always a product of circumstances; now, for at least about 10% of women and probably far more, it is a choice (i.e., childlessness has grown by 9% in that time; the maximum rate of biological infertility in 1976 – two years before the first "test tube baby" – was 10.2%, but surely at least some of that childlessness even then was chosen; today's rate of actual biological infertility is likely lower still, thus, most likely, well under half the current nulligravidity rate of over 19% is due to true infertility, with the rest the product of women's active decisions not to bear children although they could).
In fact, the shift in total lifetime fertility over this period is markedly toward lower numbers at every level: the category of 4 or more children has declined by the greatest percentage, followed by the category of 3; the fraction of women with exactly 2 children has expanded markedly, but the fraction with just 1 has expanded more, and the fraction with 0 has increased most of all. Comparing the categories shows how pervasive the shift to smaller families has become: not only are more women not having children, but few are having very large families (the percentage of women with 4 or more children has plummeted, almost to the fraction of women who had none at all 40 years ago), and with 2 now being the most common choice, but 1 or 0 (combined) even more popular; essentially, most women who might have had 4 or 5 kids are now having 3 or 2, and those who might have had 3 or 2 are in many cases now having 1 or none. As has been widely reported, the overall fertility rate in the US now is about 2.0 – 2.1, which is just below the replacement rate; it has fluctuated at that level for over a decade and shows no signs of changing. (Hispanic women are the only ethnic group with higher fertility, and that is concentrated largely among recent immigrants.) This also is a choice – one that represents a remarkable shift from 100 years ago, when lifetime fertility was about 4 children per woman.
It's interesting how sensitive to conditions the total fertility number is as well: within less than a generation, it dropped to about 2 during the Great Depression and through WWII, rose sharply to 3.7 during the Baby Boom, dropped to an all-time low well below 2 in the mid-70s, and has slowly risen to its current stable level just below replacement. Thus, average total fertility is capable of shifting, either up or down, by a factor of 2 in as little as 10 years, and has done so several times in the recent past. Women have always made choices about their fertility, but increasing economic security and more-reliable access to birth control has likely made those choices easier and more authentic. From this perspective, then, the currently stable average total fertility rate of 2 can be regarded as what economists would term a "revealed preference" – a choice women have made when they were free to make their own choices. (Another revealed preference: the percentage of women who remain in the workforce after having children has grown by a factor of almost 2 compared to 1976, and more since before then.)
This has many implications for the United States and the world, in terms of population levels, economic activity, demographic shifts affecting distributions by race, class, and age, and so on. But aside from those often-remarked consequences, what this shift, and its historical roots, tell us, is how far voluntary choices about fertility are part of people's lives and their strategies for dealing with both reproductive and social opportunities. This shift – which parallels that in other developed countries – demonstrates that fewer children, greater control of reproduction, and greater participation in the external economy and other activities, are the life patterns that women (and their male partners) choose when circumstances allow it. (The only major upsurge in fertility in America in the last century was immediately after WWII, when young men who had been displaced by the war returned and began the reproductive lives that had been delayed for a period of years; the long-term trend has been downwards, and temporary upswings have generally been small.) And this in turn emphasizes how important that freedom is to people's lives and the goals they hold for them.
The most obvious, and currently salient, lesson to be drawn from this, of course, has to do with the importance of effective and available family planning. Just a day after having narrowly avoided a shutdown of the entire US government over a dispute centered largely on continued funding of Title X – the nation's only dedicated family-planning healthcare program – and the right-wing attack on reproductive healthcare in general, the recklessness of such policies, and their cost to people's independence and well-being, can't be overstated. But there are broader lessons as well: people care about and make active choices about their health and reproductive strategies, in huge numbers, and with surprising subtlety. The economy, demographics, and availability of equitable access to social opportunities such as jobs, education, and employment, have powerful consequences for how people live their lives and use their bodies – and the choices they make in response to circumstances demonstrate that the choices others make under other circumstances are not always free or welcome.
Given a chance, most women in developed countries around the world will choose to have 3 or fewer – often 2 or fewer – children in their lifetimes, and the rate drops predictably with improving conditions. Most women in non-developed countries, and even in affluent ones before the development of effective and available birth control, had many more (in most of central Africa today, it is an average of 5 – 8 liveborn children per woman, and even more total pregnancies including stillbirths; in Afghanistan it is 7). Clearly those choices were not voluntary for most of those women. They were not voluntary for most women in America less than 100 years – just a few generations – ago. Increased economic affluence and urbanization made having fewer children more desirable, but it was the development and availability of modern birth control that made it possible. To remove that access for some of the population now is not merely to endorse certain lifestyle choices or even to make them possible (women have always been perfectly free to have 4 or more children if they choose); it is to eliminate the choices others might make if they could, and constrain them by economic force to a life most of the country, and most of the world, has chosen to flee. It is to return some of the women of America to the conditions of life of 100 years ago, while the affluent continue the path to greater opportunity that was made possible by the economic and medical advances over that time.