I haven't been paying much attention to the show Nurse Jackie. I have seen other work by the star Edie Falco and admire her as an actor, and I gather her current show is popular, though I haven't seen it and I don't know much about it. I vaguely wondered if it really had much to do with nursing or healthcare, and whether it presented any interesting issues, but, as I said, I wasn't really paying attention.
Just now, however, I happened to open a magazine and find a full-page ad for the new season that began this week, featuring a large color picture of Edie Falco in her nurse's uniform, and two thoughts popped immediately to mind: (1) "Nice tits!"; and (2) "Wait a minute . . ."
The ad shows her wearing a blue scrub shirt that is very obviously tailored to her body, tight around the waist, flared over her hips, and very tight and smoothly curved over her breasts. It almost looks normal, but was so obviously intended to be sexy that it took me only a few seconds to realize it wasn't a real scrub shirt – it was a costume that was not only absurdly impractical for real hospital work, but was clearly carefully designed to emphasize her body. When I realized what was going on with the picture, it occurred to me as well that that didn't seem to be the image I had gotten of the show previously. I remembered the first season ads as vaguely sinister, with Falco brandishing a syringe in what was also an unmistakable "middle finger" gesture.
I went back to find some of the earlier ads online, and the difference seems obvious to me. Look at these ad pictures, scanned from DVD boxes or print ads, from each of the three seasons up to now: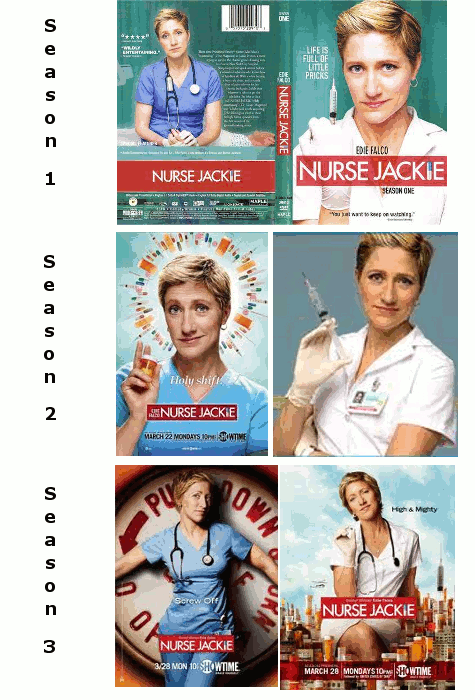 In each season, there are ads with her in blue scrubs and in a white nurse's dress, often striking similar poses. But note a subtle but clear progression: The first season, they had apparently defined the character as tough or menacing; she looks grim, tired, and slightly threatening, her blue scrubs are a little tight but fairly normal-looking, and there is nothing sexy about her poses. In the second season, she's perky, not tired, and seems more playful than menacing; she has a tan and the pictures are shot from eye-level rather than slightly above, which is less distancing. In the third season, they've apparently decided that she's HotLips Houlihan: she's wearing tailored scrubs with a gathered-in waist and tight bosom, her hairdo is just a little softer, she's holding a pill, not a menacing needle, and in the white-coat picture, she's sitting, not standing, with her dress hiked up and showing a lot of leg; they have also clearly airbrushed the perfectly natural lines on her face to give her a much smoother complexion, she seems to be wearing more makeup, and she's got her arms splayed out to expose her chest in one picture, and her head thrown back kind of coquettishly in the other. (They really like that blue-scrubs shot: they're running ads with different shots of the same costume, same wide-open pose, against at least two different backgrounds.) The differences are subtle (and easier to see in the original images, rather than the resized and pixellated ones above), but they can't be missed – the tight shirt and bare legs especially are almost humorously cliched, and obviously different from the first season, while the increasing retouching and decreasing lines and wrinkles are clear, too.
Still don't believe me? Compare these two head-to-waist shots of what are ostensibly the same blue scrubs, from Season 1 to Season 3: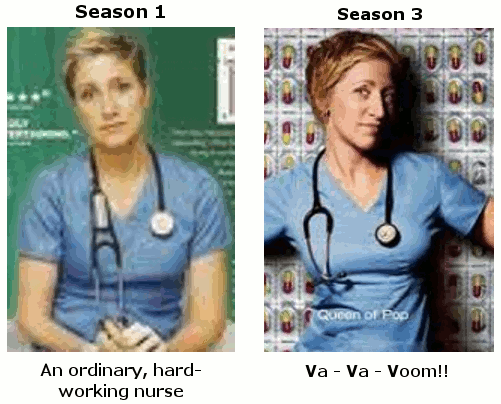 It's hardly surprising that they've sexed-up their ads to get more attention – I suppose it's almost inevitable for an attractive female actor to be treated this way, even with a distinguished track record and a starring role in a popular show. But it's annoying to so persistently and mundanely see every woman on TV made into a display model, and it's annoying to see every female professional (in healthcare or otherwise) put into positions that shift the focus away from their professional roles and back onto their bodies. The HotLips comparison is not inapt: after decades of female professionals on TV, including many in healthcare-themed shows, this role seems to have come back around to a emulating – in a small way – a cliche character from 40 years ago (a role that was itself played by a famously strong feminist actor, who brought a lot of warmth and character into what had started out as essentially a sexual-harridan stereotype – but why do these women have to struggle so hard to redeem their roles?). What's especially galling here is that the role apparently began as quirky, offbeat, and independent, and has been moved toward being a sexual tease. It's insulting to nurses, to actors, and to women – a TV-hospital trifecta.
To be sure, the stuff above is far from the worst on TV. But that only underscores how unnecessary it is. I don't really know what kind of character Falco plays on this show, but for whatever reason they've moved it – visually – a step closer to the "sexy Halloween-costume nurse", and away from what I presume, or at least hope, would have been a true actor's role with a complex human at its center. Nurses are already sexy – in the way that smart, accomplished women are always sexy – but real human beings are hard to get hold of and worth studying. Edie Falco is sexy, too, but much more than that; she can bring out the humanity in a role in a way that few can do. It's a shame the show she's on doesn't seem to prioritize that.