Since the anti-choicers are so very concerned about minority interests that they insist on stealing every woman's autonomy  because a potential black leader fetus might someday be aborted, it's only logically consistent to pay attention to the upside of that issue: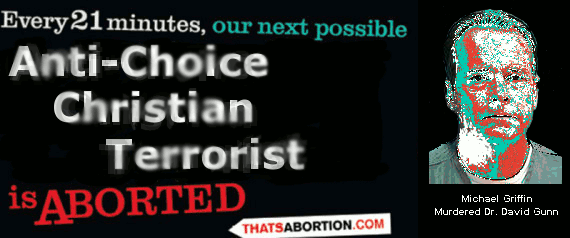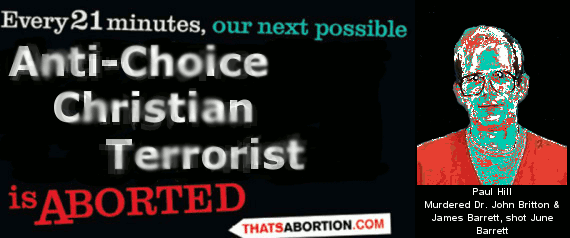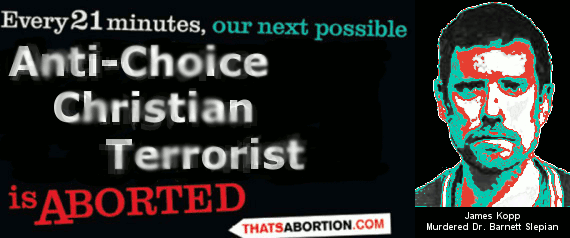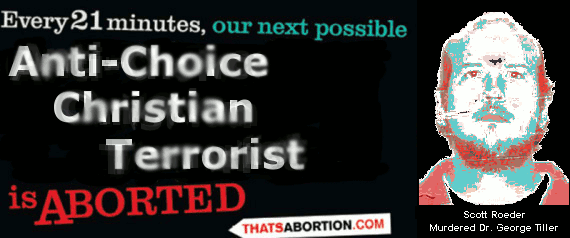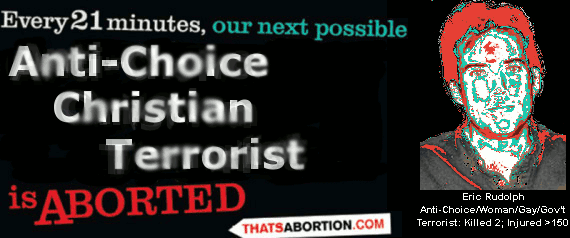 That's just a fraction of the total, even considering murderers alone. Almost no suspects have ever even been named in the over 200 arsons and bombings, or close to 100 other attempted arsons and bombings, or the literally thousands of vandalisms and chemical attacks committed at health clinics across the US, not to mention the many attempted murders, public "targeting" of chosen victims (some of them later murdered), personal harassment and threats to healthcare providers, and uncountable incidents of on-site harassment and violence directed at clinic staff and patients, that are the stock in trade of Christian anti-choice terrorism.
No person loses their life in an abortion. But here you can see just some of the people who would be alive today if the terrorists above, and others like them, had been aborted before they murdered them. If we're counting up the possible impact on society, well, there's only one Obama, but there's plenty of these shitheads. So, all things considered . . .
[NB: Of course the entire line of reasoning is nonsense. The fact that some unpredictable thing could occur sometime in the future is no reason to force anyone to bring about circumstances that might randomly, but not foreseeably, result in that outcome, even ignoring the fact that it is their decision whether they want to do so. The same reasoning would not only justify mandatory childbirth, but mandatory pregnancy, and in fact mandatory maximum reproduction regardless of risk or cost – since one of those unwanted children might do enough good to offset all the suffering required to produce it. That this is in fact the official policy of the Catholic Church makes it no less insane or misogynist. It's also illogical: there's no guarantee that any child – still less an unlimited number of unwanted children imposed by force – will do more harm than good, so the proposition that there's a harm to society in aborting them is no more provable than that there's a good to society in doing so, as the above images demonstrate.]