Apparently, tea-baggers protesting healthcare reform have adopted the slogan "Keep your laws off my body". This is what passes for wit on the right-wing: people who are presumably largely anti-choice have appropriated a pro-choice slogan for their own purposes.
Mind-bogglingly, they claim they are not merely poking fun by making progressive symbols retrogressive, but are adopting the tools and techniques of left-wing activism for purposes that they regard as similar in motivation and intention. Adam Brandon, press secretary for the tea-bagger organization, claimed:
If we had been alive back in the 1960s, we would have been on the freedom bus rides. It was an issue of individual liberty. We're trying to borrow some from the civil rights movement.
Right. Freedom Riders: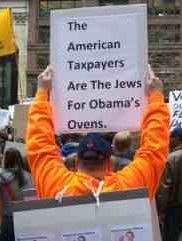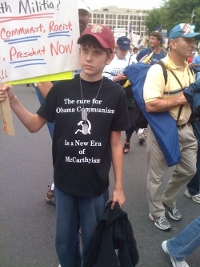 But that wasn't my main point. I wanted to note just that one slogan: "Keep your laws off my body".
It seems undeniable that the vast majority of tea-baggers would strongly oppose the liberty that slogan advocates. Surely their Congressional enablers do. But with the characteristic ignorance and lack of shame that makes it possible for right-wingers to say any of the things they say, they've co-opted words they don't believe in into a context in which they don't even make sense.
Unlike the issue of abortion rights – wherein the same noisy faction that opposes healthcare for others also aggressively campaigns to prohibit women from controlling their own bodies, and to force them to undergo pregnancy and childbirth against their will – the proposed plan for universal healthcare access doesn't impose any unwanted procedure on anyone's body. The access plan incorporates no specific treatments at all – it is a funding mechanism, not a treatment regimen, still less a mandatory one.
Naturally, of course, the wingers who oppose both abortion and healthcare in general, while demanding "keep your laws off my body", also oppose abortion funding under any healthcare plan that is passed: that's right, they insist that the healthcare plan they oppose because it would impose laws on their body must also be crafted so as to assist them in imposing laws on other people's bodies. But more fundamentally, it is the characteristic right-wing solipsism and sheer imperviousness to fact that makes this absurdity possible: their aversion to healthcare means other people can't have any, and their valorization of unplanned pregnancy means other women must have them; laws that have nothing to do with actually imposing upon people's bodies are opposed with liberal slogans regarding bodily freedom, while the liberal demand for bodily freedom is opposed by people who spout that same slogan.
As always, the interpretive question here is whether these people are simply mind-bogglingly stupid, or deliberately dishonest. And as always, it's hard to tell the difference in their cases.