"Wendi Aarons" contributes an open letter to the McSweeney's collection:
AN OPEN LETTER TO
MR. JAMES THATCHER,
BRAND MANAGER,
PROCTER & GAMBLE.

February 6, 2007

Dear Mr. Thatcher,

I have been a loyal user of your Always maxi pads for over 20 years, and I appreciate many of their features. Why, without the LeakGuard Core™ or Dri-Weave™ absorbency, I'd probably never go horseback riding or salsa dancing, and I'd certainly steer clear of running up and down the beach in tight, white shorts. But my favorite feature has to be your revolutionary Flexi-Wings. Kudos on being the only company smart enough to realize how crucial it is that maxi pads be aerodynamic. I can't tell you how safe and secure I feel each month knowing there's a little F-16 in my pants. . .

Have you ever had a menstrual period, Mr. Thatcher? Ever suffered from "the curse"? I'm guessing you haven't. . . .

Last month, while in the throes of cramping so painful I wanted to reach inside my body and yank out my uterus, I opened an Always maxi pad, and there, printed on the adhesive backing, were these words: "Have a Happy Period."

Are you fucking kidding me? . . .
One one hand, this is a worthy contribution to the "stupid product marketing" museum – and Aarons is far from the first to comment on the absurdly chirpy ad campaigns for menstrual products, or their seemingly inexplicable design. But, without making too much of it, there's something more here as well, something that reflects the "sexism as a health issue" theme writ small, as I previously tried to express it more broadly.
Simply put, women's health is largely in the hands of clueless, careless, and uninterested (if not outrightly hostile) men, and this has consequences. Only a man would write "Have a Happy Period" on a maxipad. Only men would perform 80 – 100,000 unnecessary hysterectomies a year in the US, mostly on women in their reproductive years. Only men would create close to 100 different types and formulations of prescription birth control methods that act on women's bodies, and not one for men. The effects are substantial, and pervade every aspect of care for women. But "Have a Happy Period" says it all. The rank ignorance of women's lives, bodies, and health, and the thoroughgoing disgust with which women's biology is perceived, even among professionals engaged in caring for them on a daily basis, renders the health options offered to women not merely absurd but destructive. The simple fact that women are a secondary concern for – and, still in this day and age, a complete mystery to – the men who shape their lives and healthcare, leads to asininity like happy menstruation, and to outrages like unnecessarily dangerous pregnancies and abortions.
Progress has been made on women's issues, and women's health, in many ways, but in many ways we're still in the 1950s. Somewhere out there is an idiot (possibly named "Mr. James Thatcher") who believed that cheery slogans on women's hygiene products would be appreciated. Somewhere out there are legions of pharmacists – all, as far as is known, male – who think they can simply deny a woman prescription medications if they choose for her to live her sexual life differently from the way she has chosen for herself to do so. Somewhere out there, in a prominent place and in prominent positions, are these assholes: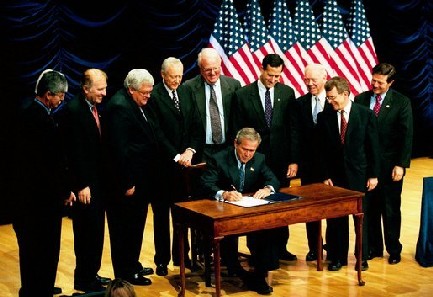 They all look like they're having a very happy period. But as long as men like these have any control over women's healthcare, women will suffer severe dysgynorrhea. The only treatment is to eradicate the cause.
Hat Tip: Tgirsch at Lean Left.