There's a weird freak-show quality to internecine dustups between extreme right-wingers, especially on the religious anti-sex front. One is going on now as to who is the most authentically sex-negative. Worrisomely, though, one of the combatants is a professional counselor who uses her position, and credentials, to push a highly personal agenda while also pulling rank on people with dissenting opinions.
"Jacquefromtexas" is an MSSW (though not, apparently, with a clinical social work license). She writes a blog mostly devoted to simplistic anti-choice rants, and she also serves as an "expert" on About.com's answer-board devoted to abortion, where she cites her professional credentials to bolster her standing. One would think that would impose on her an obligation to act within the understood bounds of professional behavior – to support those she counsels in developing and exercising their independence, to remain neutral in assisting them in working through their issues, to acquire and diligently use factually correct and scientific information when providing factual input, and to avoid using her position to promote a personal agenda through her clients. One might also hope it would be exercised by someone with the maturity to stay out of public pissing fights with people with other opinions. In this case, one would be disappointed (all quotes below from About.com except where noted).
"Non-directive counseling:"
I joined AllExperts to counter to pro-abortion opinions and irresponsibility that I saw, like the downright lies that people like "Angel" wrote. . . . I share your concerns and am pleased to report that neither myself nor the other expert who now answers abortion questions would ever promote or refer for an abortion. . . .

[H]aving abortions hurt your body and your ability to have children but oral contraceptives are bad for you, too. They make you infertile (that's there job) and hurt your ability to conceive later. They are also abortifacient, which means you may not be having surgical abortions, but you're still aborting by using the pills. If you heart has changed toward abortion and feel like it is morally wrong, then oral contraceptives are not a good choice for you, either. . . .

I think you're transferring some of that pain and burden onto yourself, saying that because you aborted 3 of your babies, you don't deserve to have another because of the risks you created. Nicole, God doesn't work that way. He will forgive you and bless you if you recognize that what you did (abortion and premarital sex) was wrong and you seek Jesus Christ's sacrifice for forgiveness. If you beleive that He was the son of God, died to your salvation and rose again, then you can be saved and reunited with your children. And any guilt or shame can be taken from you and God can reward you with healthy children if He chooses to. . . . There is so much forgiveness, Nicole. So much.  [NB: This was to a questioner who hadn't mentioned feeling guilty, or having any religious feelings whatsoever.]

My friends [who had abortions] tell me that the feelings of guilt, grief and shame almost never go away. Many feel like they chose themselves over their babies, that they were selfish and let their babies down and feel like a murderer. Many of them report having nightmares of killing babies, of bloody babies crying, or just wake up to a crying baby that's not there. . . . [etc.]
"Professional neutrality":
I joined AllExperts to counter to pro-abortion opinions . . . I commonly refer to places that provide free pregnancy help [i.e., anti-choice "crisis pregnancy centers"] . . . [N]either myself nor the other expert who now answers abortion questions would ever promote or refer for an abortion.

Abortion clinics charge for ultrasounds and the counseling that a person receives there is minimal. All services provided by non-profit pregnancy centers are comprehensive and free. . . .
The latter is particularly odd in light of this response:
[Question:]  I want to ask you a question but you dont say if you are balanced in your opinion. . . . Can you say if you answer that you are fair and accurate or biased?

While I appreciate your question, I'm afraid I can not answer it. I am a professional and bound by a Code of Ethics that forbids me from answering personal questions about myself.
WTF? I've reviewed the entire National Association of Social Workers' Code of Ethics and the Clinical Social Work Federation Code of Ethics; one or the other is also the basis for most codes of ethics of state or regional social work societies in the US. I cannot find anything even remotely similar to the above in either of them. Certainly no medical association has a code of ethics that prohibits telling your patients whether you are going to be honest with them! The NASW Code requires, among other things:
Social workers treat each person in a caring and respectful fashion, mindful of individual differences and cultural and ethnic diversity. Social workers promote clients' socially responsible self-determination. . . .

Social workers respect and promote the right of clients to self-determination and assist clients in their efforts to identify and clarify their goals. . . .

Social workers should provide services to clients only in the context of a professional relationship based, when appropriate, on valid informed consent. . . . Social workers should provide clients with an opportunity to ask questions.

Social workers should be alert to and avoid conflicts of interest that interfere with the exercise of professional discretion and impartial judgment. Social workers should inform clients when a real or potential conflict of interest arises . . . .

Social workers should not take unfair advantage of any professional relationship or exploit others to further their personal, religious, political, or business interests. . . .
It seems obvious that she evades answering the question above because, in her case, the answer would have to be "No." It's certain that no interpretation of professional ethics imposes such an answer; in fact, answering that question – and the only responsible position is to be able truthfully to say "Yes" – is fundamental to setting a supportive and trust-inspiring groundwork for counseling. If, of course, that's one of your priorities.
 "Factual accuracy:"
I am NOT pro-birth control because birth control causes abortions. If you did any research then you'd know that most birth control methods inhibit implantation, causing early abortions. Furthermore, 80% of abortions are performed on women who use birth control and studies show that women on birth control have more sexual intercourse than others and thus are more likely to get pregnant. . . .

Statistics show that 93% of women regret their abortions. Women are 9 times more likely to kill themselves after an abortion. Women who abort often suffer from post-traumatic stress, nightmares and depression. Eating disorders, alcoholism, and drug abuse are more common in post-abortive women. Also, 47% of all abortions are REPEATS meaning that having one abortion often leads to having another because women try to replace the child they lost and realize that circumstances haven't changed. Promiscuity and the self-esteem issues that accompany it are also prominent in women who have aborted. . . .

Your body that sent out a set of hormones to change your body for childbirth is traumatized by the unatural loss of the child (most miscarriages come from a lack of these hormones, which is less traumatic), so there are hormones that go crazy, mutating cells (like breast cells to turn them into milk-producing cells) that never get the last of the hormones and stay mutated. This makes them cancer prone. . . .
And then there's the question of maturity – or the amusing display of its lack that results when two anti-choicers get sucked into a holiness contest:
[In response to another anti-choice poster on About.com who criticized her for not being aggressive enough(!):]

Woah there, zealous idiot! How stupid must someone be to direct the attack at an non-offending individual rather than the website itself? . . . Furthermore, she indicates just how uninformed a pro-lifer that she is . . . I love how she chides me for not being pro-birth control . . . Yes, may God have mercy on me for not advocating birth control that slaughters millions of lives by it's abortifacient action! . . .
It goes on:
I'm going to have this [poster's comment] removed, but nonetheless I am further annoyed by her idiocy. Abstinence is not birth control and she did nothing to suggest that. She's trying to save face and failed miserably. . . .

All she's done is discourage abortion-minded from contacting me and allowing me to give them the resources they need to choose life. Way to cut off your nose to spite your face, at the expense of those unborn babies you claim to love so much.
And on:
Wow, this chick needs a hobby. Perhaps she should direct all that energy toward actually doing something rather than attacking those that do.
So, Jacque, for being the most childish self-described "professional" in easy sight, for asserting your standing in an autonomy-centered, non-directive, healing profession for the explicit and admitted purpose of directing those who come to you into a choice of actions you personally have made for them ahead of time, for spreading long-discredited anti-choice propaganda as fact, for using bizarre, false, and ideologically based definitions of ordinary factual terms like "pregnancy", "abortion", and "birth control", for explicitly refusing to reveal your ideological biases and schemes when asked directly about them while citing as justification professional codes that require the exact opposite, and for demeaning your own profession with these immature antics and your display of childish rancor at a total stranger on two public Web sites, you are officially (albeit belatedly – I had a rough weekend) the Stegosaurus of the Week. Next time try thinking with the cerebral ganglion, not the sacral one.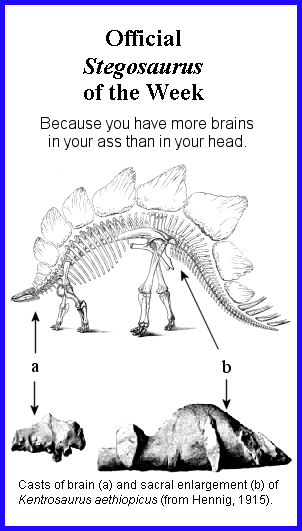 Our lovely "Stegosaurus of the Week" Award GIF: Official Winners may feel free to add it to their Web sites:

In closing, I have to say I'm actually quite concerned about this. It's one thing to hear this kind of nonsense from the typical anti-choicer – and most of the above is just old propaganda rehashed. But I think it's entirely another to see it from someone who claims to be a professional in the healing fields, and who sets herself up in a quasi-clinical role (she apparently is not an LCSW, but she does refer to herself as a "counselor" on About.com, and frequently encourages questioners to e-mail her privately so she can "counsel" or "work with" them). I think statements and behavior such as the above are gross violations of professional ethics, and very worrisome in someone, however immature and inexperienced, who is both well along in training (she's in a doctoral program – one which apparently hasn't noticed, or doesn't care about, behavior like the above!) and already presumes to act in a quasi-professional capacity.
It's true that the NASW Code of Ethics is filled with weasel words like "socially responsible self-determination", and various justifications for violating client autonomy and confidentiality, but it's also clear that they are aimed at questions of obvious and overt threat to others. I would be amazed that anyone in responsibility there would think it was acceptable for a social-worker/counselor who was approached by a client saying she was ambivalent about a potential abortion to then engage in a self-interested and specifically slanted program of influence to encourage that client to make one and only one choice that had been decided upon by the counselor before the client even spoke.
I was tempted to file a complaint about this person. I would never attempt to personally harass an ordinary activist, and this is why I do not support tactics such as posting personal contact information about, or contacting the employers of, people I disagree with. But professionals must be held to professional standards, whatever their personal views may be, and especially whether or not those views match those of their clients. I did look into her licensure status – apparently she does not have a license, so she has no license to revoke. I have a feeling that complaining to her professional training program (it can be discerned on the Web, although she does not advertise it) would be going too far, but I also have the feeling that letting someone this hostile to patient autonomy run loose would be worse. Finally, I don't want to become one of those bloggers who make it their business to harass others, as we've seen too many doing – yet I don't think that simply behaving unprofessionally on a blog grants you immunity from professional discipline. In the end, I think I'll let it go, but I can't tell you how much contempt I have for this abuse of training and professional standards.