"Faithmouse" is a painfully sincere cartoonist who specializes in incomprehensible images of fetuses doing cutesy things, in the apparent belief that the morality of abortion is determined by the wisdom of Little Jeffy from The Family Circle. But occasionally he makes himself clear enough that you can understand what he's saying. Here's an example: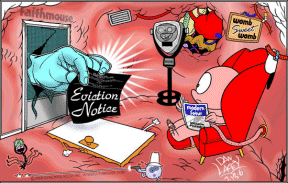 If you can't see it clearly in the reduced-size image, a cute pink fetus is lounging in a wingback chair, reading "Modern Fetus" magazine, inside a soft, red, squishy-walled apartment with the sign "Womb Sweet Womb" hanging on the wall. The fetus is plugged into the wall through an umbilical cord that terminates in an electrical outlet. Its baseball cap is hanging from a peg on the wall, a ventilator duct appears on the other wall, and – displaying a worrisome grasp of anatomy – a heart-shaped heart and other organs are visible through a huge gap in the side wall, next to a set of large, coin-operated binoculars like you find at outdoor public attractions. (?) A gloved hand is bursting through the screen door and slamming down the front door of the apartment, holding an "Eviction Notice".
Yep. Your uterus is the home of a fetus. Your cervix is merely the front door of its "apartment", and your bodily organs are merely the walls, floor, wiring, and ventilation ducts of its abode. Acting on your own body, or having a doctor do so on your behalf, is equivalent to bursting down the door of someone else's home. (I admit, I have no freaking idea what the binoculars are for.) And, of course, it's a violent invasion – tearing through the screen, ripping off the door, and dragging the little wobbly-head-doll fetus out into the cold, like a thug or a home invader, or at best a slumlord. You don't, of course, have the right to treat your own body as your own body if someone else is living in it – that would be cruel.
Amazingly enough, also, the cartoon manages to show the inside of a woman's body without ever implying that there's actually a woman present. The fetus is fully characterized – it not only looks like a typical cartoon image of a fully-developed child, but it has intellectual interests, possessions, and a home with little domestic touches hanging on the walls. The woman is represented only by the grossly distorted image of the walls of her uterus, which actually belongs to the fetus as its dwelling place. (When you see someone's apartment, you don't think "Oh, here's the landlord's real estate investment" – you think "Oh, here is this person's apartment". Here, the woman's entire body, including the internal organs visible through the "window" in her uterus – it's a "womb with a view" – get it? – are the dwelling place of this fetus; they are its home, not her body.)
So, if you want to know what you are to the right wing, there you have it. You are the property of your own fetus – its home, its "castle". Your uterus is as sacrosanct against "home invasion" – by you – as a citizen's home is against thugs or intruders. You have no right of "trespass" on your own body. And your fetus is a fully-developed person with its own tastes in home decoration; you are nothing but some walls and tubing. Do be sure to keep the yard picked up, though; it's your obligation as landlord.