The self-consciously quaint, and apparently unironically asinine, "Ladies Against Feminism" consists of the usual religious-right commentary on social issues couched in the prose style of Miss Manners. Every other post is about babies and homemaking ("Many women do not see the importance of their role as Mother and Wife . . . "). Mostly it's just weird and dreary, but sometimes they surpass themselves. From their July 10 posting:
Birth rates in the European Union are falling fast. . . . What is supremely sad about those who insist that "it's up to the individual to decide what constitutes a family," is that they do not realize it will one day be up to the state to determine what constitutes a "worthy" life. Euthanasia can only flourish in a culture that embraces sterility and sees children as burdensome leeches. Who will be around to care for the elderly when the vast majority of the population is old or infirm? The state will not love you back. It will not ask to share your memories or miss you when you are gone. . . . Deliberate sterility is choosing death.
Wha . . .?
This is mind-boggling in a way that goes beyond the right's usual confusion. Not having children leads to euthanasia? I can't even imagine what kind of slippery slope would link those two. Presumably this is some kind of "culture of death" raving, but usually that's accompanied by at least an attempt to make the delusions sound plausible.In this case, they just let it all hang out.
Birthrate . . . euthanasia . . . leeches . . . eldercare . . . . "The state will not love you back" – huh? Who imagines the state loves them? "Deliberate sterility is choosing death"? Does that mean the involuntarily sterile are murder victims? Strangely, sterile individuals generally look pretty lively to me – at least as much so as fully-stocked breeders do. Whence this "choosing death"? No matter – it's all part of the "culture of death". It doesn't have to make sense.
I have nothing to add. Some forms of nonsense speak for themselves. But there's a familiar sense of idiocy permeating these writings – an unapolagetically unhinged repudiation of any obligation to make sense, or even to use conceptually related terms in the same paragraph. This is the gibbering of people for whom gibbering is, well, good enough. And that calls for recognition.
Therfore, Ladies Against Feminism, for proudly selling the entire rest of womanhood down the river, for mistaking preciousness for insight, for nearly-insane doomsaying in response to perfectly ordinary human behavior, for making no fucking sense, and for including on your own blog the disclaimer that "Ladies Against Feminism was founded by Mrs. Lydia Sherman and Mrs. Jennie Chancey . . . . LAF is under the oversight of Stanley Sherman", you are officially and collectively the Stegosaurus of the Week. Next time try thinking with the cerebral ganglion, not the sacral one.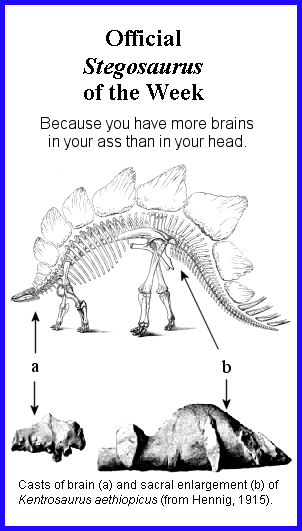 Our lovely "Stegosaurus of the Week" Award GIF: Official Winners may feel free to add it to their Web sites (if Stanley approves, of course).

UPDATE: Added link and post ID reference.