The New York Times Magazine has a wrenching photo-essay on the incidence and universality of "child brides". Girls are forced unwillingly into marriage with, and frequently sold to, husbands rapists often generations older than themselves – either to avoid the cost of raising a "useless female", to raise money, or to cancel family debts. The practice is almost inescapable:
Globally, the number of child brides is hard to tabulate; they live mostly in places where births, deaths and the human milestones in between go unrecorded. But there are estimates. About 1 in 7 girls in the developing world (excluding China) gets married before her 15th birthday, according to analyses done by the Population Council, an international research group. In the huge Indian states of Rajasthan and Uttar Pradesh, the proportion is 36 percent; in Bangladesh, 37 percent; in northwest Nigeria, 48 percent; in the Amhara region of Ethiopia, 50 percent.
But that's not the worst of it.
Child marriage is only one form of women's oppression. It brings with it all the harms and constraints that women labor under worldwide: sexual abuse and exploitation, lack of legal rights and autonomy, the loss of opportunities for education and independence, exploitation of women's labor, and on and on. It is of a piece with the practice of "dowery death" in India, and female genital mutilation, female infanticide or femal fetal abortion in many parts of the world.
But aside from the horrors of a life lived under these conditions, there are other concerns attaching simply to these vicious and abusive marriages. Childbirth at an early age is the single leading cause of childbirth mortality. It is also the primary cause of the epidemic of obstetric vaginal fistula that has ruined millions of lives in Africa and Asia – the girls' bodies are simply not physically large enough to deliver a full-term infant, and are literally torn apart in the process, killing them or leaving them maimed and in horrible pain. These deaths and medical nightmares are the direct result of child marriage. So also is the continual drain on women's bodies of constant and frequent pregnancy beginning in childhood. Child marriage is a medical epidemic as well as, more importantly, a sweeping human rights pandemic.
And, finally, this sort of problem is why we must hold the line as fiercely as we can on women's rights, and especially women's reproductive freedom – the right to decide not merely her own sexual destiny, but all the freedoms of association, marriage, contraception, and abortion that come with it. We can forget how closely reproduction is tied to marriage in much of the world – but the fact that our own American Taliban is fighting to renew and tighten that link should be a warning to American women how much they have to lose after they lose the right to forego forced childbirth. Already part of our society is denied the right to marry if they choose, and in many states the rights to conceive or adopt a child; more than half the population is also on the verge of being denied the right not to undergo forced childbirth, and, again childbirth and marriage are synonymous in concept for the American right-wing, while synonymous in fact for much of the rest of the world. Once it is determined who cannot marry, and who cannot bear children and who must bear children, and once unbreakable "covenant marriage" spreads further, there remains only on more step to take to wrest women's sexual autonomy entirely from their hands in every respect.
A few years ago, worrying about forced marriages in America would have been insane. But a few years ago, worrying about legal prohibitions on contraception would have been equally paranoid. A few generations ago, both would have been commonplace. And our right wing is headed back there – by way of abortion, gay marriage, and contraception bans – full steam ahead.
Meanwhile, here are some "traditional marriages" as practiced by the family-values crowd in Afghanistan (the country George Bush liberated, remember?):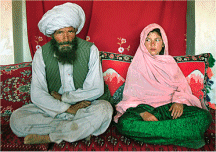 ("Ghulam Haider, 11, is to be married to Faiz Mohammed, 40. She had hoped to be a teacher but was forced to quit her classes when she became engaged.")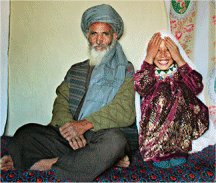 ( "Roshan Qasem, 11, will join the household of Said Mohammed, 55; his first wife; their three sons; and their daughter, who is the same age as Roshan.")