Dawn Eden has a weird tendency to quote her own, personal feelings about any issue as evidence of the truth of factual claims she makes – often about other people's feelings on that same issue. She thinks not merely that how she feels should dictate other people's behavior (that's just right wing politics in a nutshell), or even that how she feels should dictate actual facts about the world (right-wing science in a nutshell). Eden has expanded the shell of her nuttiness to include the apparent belief that her feelings both give her epistemological access to, and serve as a norm for, other people's beliefs and values. She is constantly describing the mental contents, and emotional states, of people she clearly doesn't understand on issues she can barely discuss coherently, and then relying on her own delusional descriptions as factual evidence for moral conclusions about those people and the topic at hand.
That's . . . odd. (And let me say that, aside from the sheer reality-defying oddness of it, the emotional states of a woman who bursts into tears in church and sobs continuously through half the service because . . . someone making announcements talked too fast . . . are an especially dubious source of moral or epistemological norms. I hope she doesn't get around to reading my mind, because I'd hate to suddenly find myself behaving like that.)
A woman who feels unloved is going to see herself as a parasite upon her own parents, spouse, or lover. In viewing the child gestating within her as a parasite, she is extending her own feeling of worthlessness and alienation to her baby. By exterminating the child, she is insuring that it will never be the burden upon others that she believes she herself was or is to those close to her.

. . . Those who support the abortion of "unwanted" babies are responding to their own trauma of feeling unloved — and perhaps, without realizing it, exacting revenge upon the people who didn't want them.

On why her feelings about her own (lack of a) sex life "invalidate" other people's actual lifestyles:

The real problem that the lattes-and-latex lads and lassies have with chastity is not an intellectual one, but a spiritual one. They know that if chastity truly enables one to enjoy life, love and friendship on a deeper, more intense level than one can experience through nonmarital sex, then the mere existence of such a lifestyle invalidates their own.

From her book about her (lack of a) sex life:

[W]hen you become chaste, you'll notice for the first time that women who have sex outside of marriage don't really appreciate men. You can't see this when you're having nonmarital sex, because you don't realize how much there really is about men to appreciate. You think the mere fact that you're attracted to them and that they seem to wield such power over you shows you appreciate them for what they really are. From there, it's a short step to the cynical stereotype we all know from popular culture—the worldly wise, "been there, done that" single woman who doesn't trust men any farther than she can throw them.
This is not just weird – it's factually false thinking. It's a set of strongly-held, but self-created, beliefs about people and subjects on which she has no reliable knowledge. It's self-delusion far beyond the level of, say, Jesus on a tortilla (where you can at least see the tortilla), or even creationism (which turns upon factual falsehoods that even many smart people don't have the grounding to see through). It's the makin'-shit-up, easy kind of smug self-delusion that allows you to put other people down not because they don't know as much as you, or aren't as smart as you, but because they don't have the same emotional states as you. It's smugness for people who aren't actually very smart or know very much – which, when you think about it, is a fairly bold trick to pull off.
So, congratulations, Dawn Eden. In recognition of your onging, though by now long overdue for extinction, tendency to pull nonsensical crap out of your ass, you are the second-ever Official Stegosaurus of the Week. Thanks for playing, and next time try thinking with the cerebral ganglion, not the sacral one.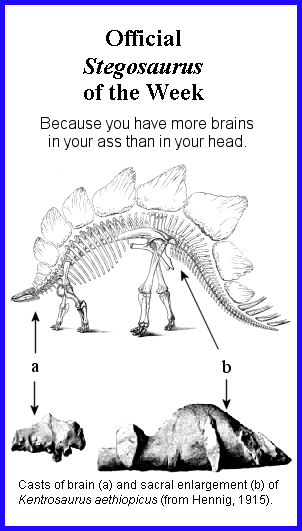 (I have to admit, when the inspiration for this award came to me, I thought immediately that Dawn Eden would be a likely early winner. But she handed it to herself on a plate with the "autonomous women are parasites" quote from this past Tuesday.)
Our lovely "Stegosaurus of the Week" Award GIF:

Official Winners may feel free to add it to their Web sites.