When did miscegenation become OK?
There are the high-profile examples, of course: in the late 50s, Sammy Davis, Jr., enjoyed a series of public relationships with various blond bombshells that netted him a lifetime of harassment and death threats, while still commanding the loyalty of legions of black and white fans; later there was Clarence Thomas's wife, who struck a blow for women's independence in 1991 when she declared that Anita Hill was a psychotic who "was probably in love with" the man she claimed had sexually harassed her. And, in 1967, "Guess Who's Coming to Dinner?" was released as a serious social drama, in which dreamboat black man Sidney Poitier is judged barely acceptable by liberal white parents willing to stretch their own principles to the point of martyrdom; in 2005 it was remade as a comedy in which Ashton Kutcher is adjudged an imbecile by every living person in the United States including Bernie Mac.
So, I guess we can say that some time between the late 50s and now, something changed. Popular, wealthy, and privileged blacks went from a point where they could satisfy their jungle desires for relationships with whites if they were willing to risk their careers and their lives, to a point where they could publicly reject whites as not measuring up to their standards. And, between the late 60s and the early 90s, where once it was barely imaginable that a black man would be an acceptable in-law in the eyes of "enlightened" society, it became possible for white women married to black men to dictate to black women how they should let black men treat them – and be applauded by white Republicans for doing so. It appears, then, that at some point in the 70s or 80s, it became possible in US society for inter-racial couples to present themselves as standing inside the accepted social picture of what married couples were supposed to look like.
But there's more.
Just today I noticed a blog ad for an online dating service (it's not a new ad; I just happened to consciously take notice of it today).

The ad shows a smiling, happy couple in one another's arms. They are selling this couple – that is, they are selling the implication that, if you use their service, you can expect to wind up as part of a smiling, happy romantic couple.
We can note something about this ad, though: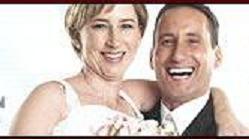 The woman in this couple is clearly palest Caucasian. The man is somewhat . . . dusky.
Note: See "Update" below.
The ad appears on general-interest blogs of various kinds – it is intended to appeal to a general audience. In the US, more than 70% of that audience is going to be white. The advertisers clearly believe it is not going to hurt their business to hold up, as an implicit model for the relationships 70% or more of their audience expects to get into, a form of relationship once considered an unspeakable threat to the purity and safety of that dominant majority. In other words, we are now in a state in which inter-racial relationships are not just common, and not just accepted, but are offered up as models in advertising designed to entice customers to spend money to (by implication) achieve them. (The marketing strategy is clever because it essentially offers something for everyone: there is a white person, whom whites can identify with; there is a darker person with narrow features but mid-tone skin and dark hair, whom you can convince yourself is white, black, or many other things; and of course for the miscegenation fiends in the audience, it's a bonanza!)
This is quite a shock for a country in which such relationships were a crime in some states as late as 1967 – the same year that Spencer Tracy had to swallow hard to get over the idea of having a man with only one Academy Award as son-in-law.
Which brings me – as you knew it would – to the subject of gay marriage.
It is obvious to liberals how closely this issue parallels that of racial segregation and particularly of anti-miscegenation laws. (And it is a delicious thrill to liberals to hear conservatives sputtering about how different the two issues are while trying to remember which side of anti-miscegenation they're supposed to be on.) The social arcs of the two forms of discrimination are very similar as well (though the speed with which gay marriage has shot forward seems to have taken everyone by surprise). Inter-racial marriages have become the "traditional marriages" that are now ballyhooed by the same bigots who fought them just a few decades ago – and gay relationships are following them in stride.
Already we are at the point where anti-miscegenation laws against gays are defended only by the crowd that defended anti-miscegenation laws against race in 1967. From the opinion in Loving v. Virginia, in which "activist judges" overturned all such laws forever:
On January 6, 1959, the Lovings pleaded guilty to the charge [of miscegenation] and were sentenced to one year in jail; however, the trial judge suspended the sentence for a period of 25 years on the condition that the Lovings leave the State and not return to Virginia together for 25 years. He stated in an opinion that:

"Almighty God created the races white, black, yellow, malay and red, and he placed them on separate continents. And but for the interference with his arrangement there would be no cause for such marriages. The fact that he separated the races shows that he did not intend for the races to mix."
This week, Governor Rick Perry of Texas, speaking at a Christian school rally featuring evangelical Christian preachers from across the country, informed us:
"We're here because a quiet majority decided to have their voice heard and heard loudly, that understand that families are the building blocks of civilization, who recognize that marriage must be defended because it is the glue that binds the very fabric of society."

"Texas has made a decision on [gay] marriage, and if there's a state with more lenient views than Texas, then maybe that's where they should live."
The almost exact parallels between these two brands of yahooism would be amusing if it weren't so sad. But that parallel tells us the future of the current issue as well – and that future is coming faster even than it did the first time around.
Gay relationships are not just open but have a political momentum to them that, I think, inter-racial marriages did not in 1967 (in part I think because all gays are interested in having their relationships acknowledged, but only a small percentage of blacks or white were interested in inter-racial relationships). There are gay-oriented service businesses, including wedding/civil-union service planning, travel agencies, adoption agencies, and, yes, dating services. More and more middle-of-the-road services, such as the large dating services (Match.com, etc.), newspaper wedding pages, personals ads pages, and so forth, accomodate gay relationships along with straight ones. More and more there is a blurring of the social topography that separates these spheres. More and more gay and straight relationships are losing their adjectives, becoming just plain . . . "relationships".
I don't know how soon we'll see the "Adam and Steve" dating-service ad for straight people, but we are close already (we're certainly already seeing the "sexual rainbow coalition ads" everywhere we look). We see gay and straight relationships treated equally and in parallel wherever relationships are catered to in public. So, for gay relationships, the inter-racial dating ad (or its equivalent) came before whatever will be the Loving decision that gives them their legal rights. Though they still have the law on their side, religious bigots are actually further behind the social curve on gay marriage than they were on inter-racial marriage in 1967. (And we're light-years beyond 1957, when Sammy Davis's life was threatened for porking a white chick. The only gays who can be threatened today are the self-hating closeted Republicans who are actually doing the threatening themselves! Physical gay-bashing still exists, but in secret; gay-bashers have to hide themselves – they are where the KKK was in 1947.)
Legally, things are bad, and the overall picture, federal-courts-wise, doesn't look good for the near- or medium-term. But seeing interracial dating ads aimed at a mostly-white audience that once trembled in fear of "contamination" by the exotic Other reminds me how far beyond that point we already are for gay relationships. The "new traditional" race-blind definition of marriage co-exists with a working definition of marriage that – in the public eye – has become gender-blind in just the same way. Whatever the court situation may be today, the social situation for gay relationships is almost where it is for inter-racial relationships 40 years after the legal barriers were removed. Not the largest coalition of panicky Christian bigots and their Republican panderers can hold back a tidal wave that high.
---
UPDATE: Nobody seems to agree with me that the guy in the picture above is non-white. I still think he looks Mediterranean or Middle-Eastern, with features that can be interpreted a lot of ways including African-American, but maybe that's just me. More than one woman told he he's "tall, dark, and handsome".
My point in including the picture was to substantiate one basic claim: that inter-racial couples are now regarded as part of the image of "standard" or "traditional" couples, not as exceptions to the norm. Part of the evidence for this claim is that pictures of inter-racial couples are included in advertising for dating services aimed at a general audience.
If the pictures above do not substantiate that inter-racial couples are part of dating-service ads, here are several more I took from services listed on the first two pages of Google results for "online dating services":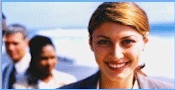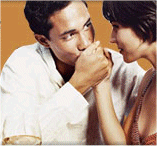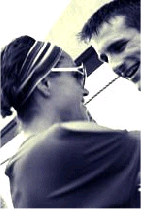 The overall theme of this post is that the cultural image of a "standard" couple has shifted over time, with a heatedly negative reaction to inter-racial couples becoming casual acceptance in just a few decades. Given that the reaction to gay marriage today is the same as reaction to inter-racial relationships of all kinds not long ago, we can expect a similar shift on that issue. That was the point I was trying to make.
I hope it is obvious that terms like "miscegenation", "dusky", and "jungle desires" were intended as a lampoon of older attitutdes about minorities. Today, the term "miscegenation" doesn't even have any current cultural meaning except in a historical sense – you simply can't use that word today in a way that makes sense, any more than you can refer to droit de seigneur or sedition. Not only do the terms have no modern referent, we don't even recognize them as salient concepts today. And so it will be, in a very short time, with the concepts of "gay marriage" and "straight marriage", as if those were distinct categories of "marriage". I assume, for the purposes of this post, that even those who would be tempted to oppose "gay marriage" will recognize how absurd it is to talk about "miscegenation" – that, in fact, they regard inter-racial married couples as part of the "traditional marriages" they are trying to "protect" against "gay marriages". (Probably there are some unreconstructed exceptions, but, as I note, today even they must pretend to be open-minded – that's how far the culture has shifted.) What I hope to do is make them see that their talk of "gay marriages" and the "defense of traditional marriage" is as absurd as they now realize their former talk of "miscegenation" and "unnatural lusts" once was.
FURTHER UPDATE: I just stumbled across this post by Amanda of Pandagon, noting – something I had no idea of – that e-Harmony, the company whose ad appears near the top of the post, is heavily (if not exclusively) Christian oriented, to the point that a non-Christian woman who advertised there for dates was dropped by everyone who responded to her and discovered she didn't want to be converted. I don't know what this says about their ambiguously-melanized heartthrob in the ads.